GRIP AND LIGHTING
Our highly versatile 3-ton Grip Truck and Lighting package is perfect for film and video productions of all sizes. Based in Houston, our well-maintained Grip Truck has been used in productions all over Texas and the Gulf-Coast area.

This Grip Truck package has been used for numerous independent films, television commercials, industrial productions, training videos, music videos, infomercials, network television shows and network news productions.

We can put you in touch with the best local crews. From Gaffers to Camera Operators to Grips, Production Assistants and everyone in-between. Our company has been involved with film and video production since 1983 and we're here to help you get your production done with efficiency.

Camera, studio and audio packages are also available through AOTWP as well.

Contact us today and schedule our Grip Truck for your next film or video production.

Note: We require that our Grip Truck be driven by employees of AOTWP, Inc. For information on rental policy, terms, and conditions, please contact us.
Rates:
| | |
| --- | --- |
| 3 Ton Grip Truck | $ 400. /day |
| (Includes quartz package & all gear on carts) | |
| Mileage | $ .75 /mi. |
| Fuel | $ 4.09 /gal. |
| 3 Ton Electric Package | $ 50. /day |
Truck Specs
Truck International 440 Diesel
Everything is on Heavy-duty easy-rolling Carts
Custom-built interior shelving & racks for ease of loading and unloading.
Hydraulic lift-gate
Curbside door with stairs
Underbody equipment boxes.
Tungsten Lights
2) Mole Richardson 5K Baby Seniors
2) Mole Richardson 2K - Jrs
1) 2K Mole Richardson Ziplight w/egg crate & jell frame
4) Mole Richardson 2K Mightys
8) Desisti 1K
2) Mole Richardson Baby-Baby
4) Mole Richardson Tweenies w/two snoots
2 Mole Richardson Betweenies
2) Mole Richardson Inbetweenies
1) 2K / 1200 HMI Chimera
1) 1K Chimera
1 Milk Crate spare lamps
(burn outs must be returned for credit)
Electrical Package
2) #2 AWG Single Phase Bare Wire Tie-in
2) #2 AWG Single Phase Trico Tie-in
2) 400 amp Distribution Box (Single Phase)
4) 100 amp Lunch Box Distro
2) 100 amp Receptacle Box
2) 60 amp Receptacle Box
4) 50' 100 amp Bates Extensions
6) 25' 100 amp Bates Extensions
2) 25' 60 amp Bates Extensions
2) 100 amp to 2 - 60 amp Non-Fused Splitter
4) 3fers with Tail/Cam
8) 50' #2/4 Banded Feeder Cable
28) 50'-12/3 Extensions
4) 100'-12/3 Extensions
2) 50'-10/3 Extensions
2) 25'-14/3 Extensions
2) 50'-14/3 Extensions
3) 2K Dimmers
2) 1K Dimmers
4) Cube Taps
1) Circuit Checker
Grip Equipment
6' x 6' Butterfly Set: 1) Frame, 1) Single, 1) Double Flag Box,
1) Solid, 1) Silk, 1) Silver
12' x 12' Butterfly Set: 1) Frame, 1) Single, 1) Double, 1) Solid
1) Silk, 1) Silver, 1) Ultimatte Green
16) Matthews C-stands w/ 40" gobo & arms
2) Matthews C-stands w/20" gobo & arms
6) Matthews baby stands
4) Matthews junior combo roller stands
1) Matthews lightweight combo stand w/"Rocky Mountain"
2) Junior combo stands
2) Beefy baby stands
3) Ladders (6', 8', & 12')
4) Full apple boxes
5) Half apple boxes
2) Quarter apple boxes
2) Pancake apple boxes
15) Matthews sandbags (35lbs)
8) Sandbags (15lbs)
10) Shotbags
4) Furni-pads
1) Post-hole digger
1) Fire extinguisher
1) Axe
1) Rake
1) Shovel
1) Broom
2) Directors Chairs
1) Rubbermaid cart
1) Matthews Doorway Dolly w/side rails
Assorted boxes of screws and nails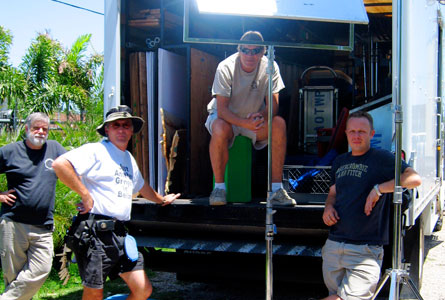 Grip Box
4) 4.5" grip heads
7) grip heads (extra)
3) gator grips
4) 18" baby arms
8) safety cables
2) 4" C-clamps with 5/8 pins
2) 6" C-clamps with 5/8 pins
2) 8" C-clamps with 5/8 pins
4) 5/8" snap in pins
20) #2 spring clamps
1) Quaker clamp
6) Cardellini clamps
2) scissor clamps
2) 5/8 pin C-clamp
Large assortment of clamps, C-clamps, pipe clamps and clips
3) 2x2 foam core snoots
4) Matthews baby plates
4) Matthews grenades
1) tree saw
1) hammer
1) tape measure
1) hack saw
Flag Box
* 1) Matthews 4 x 4 silk
* 1) Matthews 4 x 4 double
* 1) Matthews 4 x 4 single
* 2) Matthews 3 x 3 frames
* 2) 4 x 4 knife blade frames
* 4) Matthews 2 x 2 frames
* 2) Matthews 4 x 4 solid flags
* 2) 4 x 4 floppy solids
* 2) Matthews 24" x 36" solid flags
* 4) Matthews 24" x 30" solid flags
* 1) 12' x 12' Griff-black/white
* 1) 4 x 4 Matthews cucoloris (wood)
* 1) 24" x 36" Matthews cucoloris (wire)
* 3) 24" x 18" Matthews solid flags
* 2) 24" x 18" Matthews single scrim-black
* 2) 24" x 18" Matthews double scrim-black
* 1) 24" x 18" Matthews silk
* 2) Matthews 18" x 24" solid flags
* 2) Matthews 18" x 24" silk flags
* 2) Matthews 18" x 24" single flags
* 2) Matthews 18" x 24" double flags
* 1) Matthews 18" x 48" cutter
* 1) Matthews 24" x 72" cutter
* DOT and FINGER Survival Kit
Expendables
4' x 8' Foam Core: 3) black, 6) white
Spray Paint: 3) white, 3 black gloss, 3 black flat
1) Roll Duct Tape
1) Roll Gaff Tape
4) 12" Black Wrap rolls
1) Roll wire
3) 36 count C-47 bags
1) Roll Visqeen
1) Can WD40
1) Staple Gun w/staples
1) Can dulling spray
4) Bags 50' rope
2) Sash cord
1) Gel Roll
Misc. lengths speed rail
Gels
(charged as-used by running ft)
Full, 1/2, 1/4, 1/8 C.T.O.
Full, 1/2, 1/4, 1/8 C.T.B.
Full, 1/2, 1/4, 1/8 Plus Green
Full, 1/2, 1/4, 1/8 Minus Green
ND3, ND6, ND9
216, 250, 251
Opal Frost
Lumber:
2) 2" x 12" x 12'
2) 1" x 12" x 12'
2) 2" x 6" x 12'
4) 2" x4" x 12'
4) 1" x 4" x 12'
4) 1" x 2" x 8'
1) 4' x 8' x 3/4" CDX plywood
1) 4' x 8' x 1/2" CDX plywood
2) 4' x 8' x 1/4" Luanne plywood
Reflectors:
2) 4 x 4 shiny boards/expendable
2) Matthews 4 x 4 shiny boards
---
Additional Lighting
HMI: 2) 1200 watt Silver Bullets w/1 Chimera,
2) 575 watt Silver Bullet w/2 Chimera

KinoFlo: 2) 4 Foot/4 Bank w/daylight and tungsten tubes
2) Diva 400's